Beach in a Bottle: Brown Seaweed & Your Hair!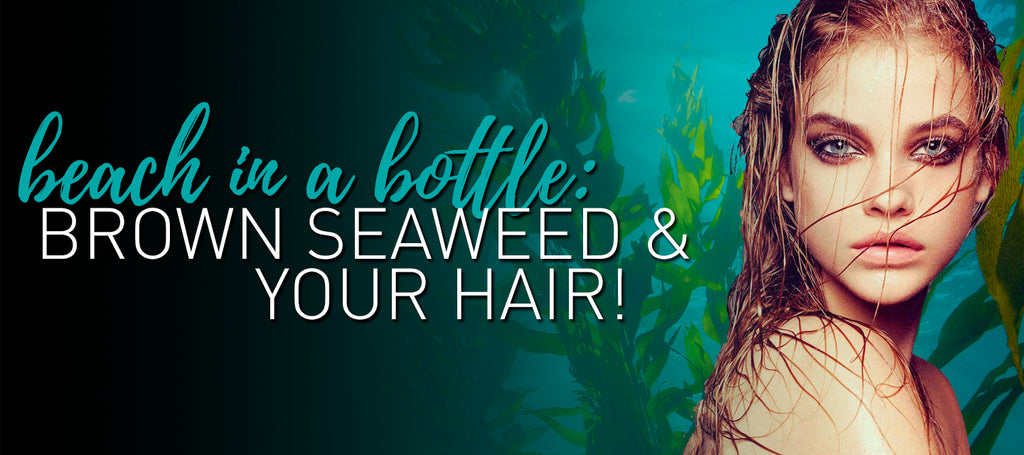 Sure, no one likes the feeling of seaweed tickling your foot at the bottom of the sea floor (although it could be worse!) but did you know that this slimy water weed can actually make your hair grow? And that's not all – it can re-hydrate, restore, and revitalize even the most damaged hair. Not so creepy anymore, right? Well let's dive in!
Found on the coasts of the British Isles, Europe, the Baltic Sea, and Eastern North America, this vitamin-rich sea veggie is making waves in the beauty industry. Here at Paul Joseph Professional, we recognized the multiple benefits of brown seaweed extract and knew we had to incorporate it into our product line. But what is it most useful for? How could our clients get the most out of it? What effect does it have on your hair? Well through intensive research and the help of our trusted chemists, we have our answers!
First and foremost – brown seaweed (or for the scientists in the crowd, fucus vesiculous) is a common large algae, often referred to as "bladderwrack," and is mostly found on the coasts of the British Isles. Despite the unappealing nickname, bladderwrack contains an impressive amount of vitamins (11), minerals (46) and amino acids (16) – all which work in different ways to nourish and improve the condition of your hair – and even promote growth! Here is a breakdown of some of the most prominent components and their functions:
Antioxidants:  Brown seaweed extract contains high amounts of Vitamin A, a free-radical fighting antioxidant. This means your hair will be protected against the harmful effects of the sun, pollution and smoke (all which can cause your strands to break down and appear dull.) It's also used in many anti-aging skin serums for the same reason.
Amino Acids:  Amino Acids are "the building blocks" of protein, and the protein keratin makes up about 88% of your hair.  The outer "shell" (cuticle) of the hair fiber is made up of amino acids, so introducing additional particles helps to re-build and restore damaged strands. The end result is stronger and healthier hair.
Minerals:  Iodine, potassium and phosphorus are the stand-out minerals contained in brown seaweed and they all work to promote hair health, growth, and hydration.
You may have noticed that most of these benefits center around hair growth/health. That's why it's a perfect fit for our STACKED line – in particular STACKED CONDITIONER. We wanted a safe and natural solution to flat, lifeless hair and the evidence was overwhelmingly in favor of our beloved bladderwrack. So if your locks could use a boost, give our friendly sea plant a chance and try STACKED CONDITIONER today! (We recommend pairing with STACKED SHAMPOO and UPGRADE QUICK BLOW DRY SPRAY for silky, voluminous results :)
Paul DiGrigoli

beauty, bladderwrack, brown seaweed, conditioner, hair, hair care, hair product, health, natural, Paul DiGrigoli, Paul Joseph Pro, Paul Joseph Professional, volumizing