Enhance your Hair with Carrot & Argan Oils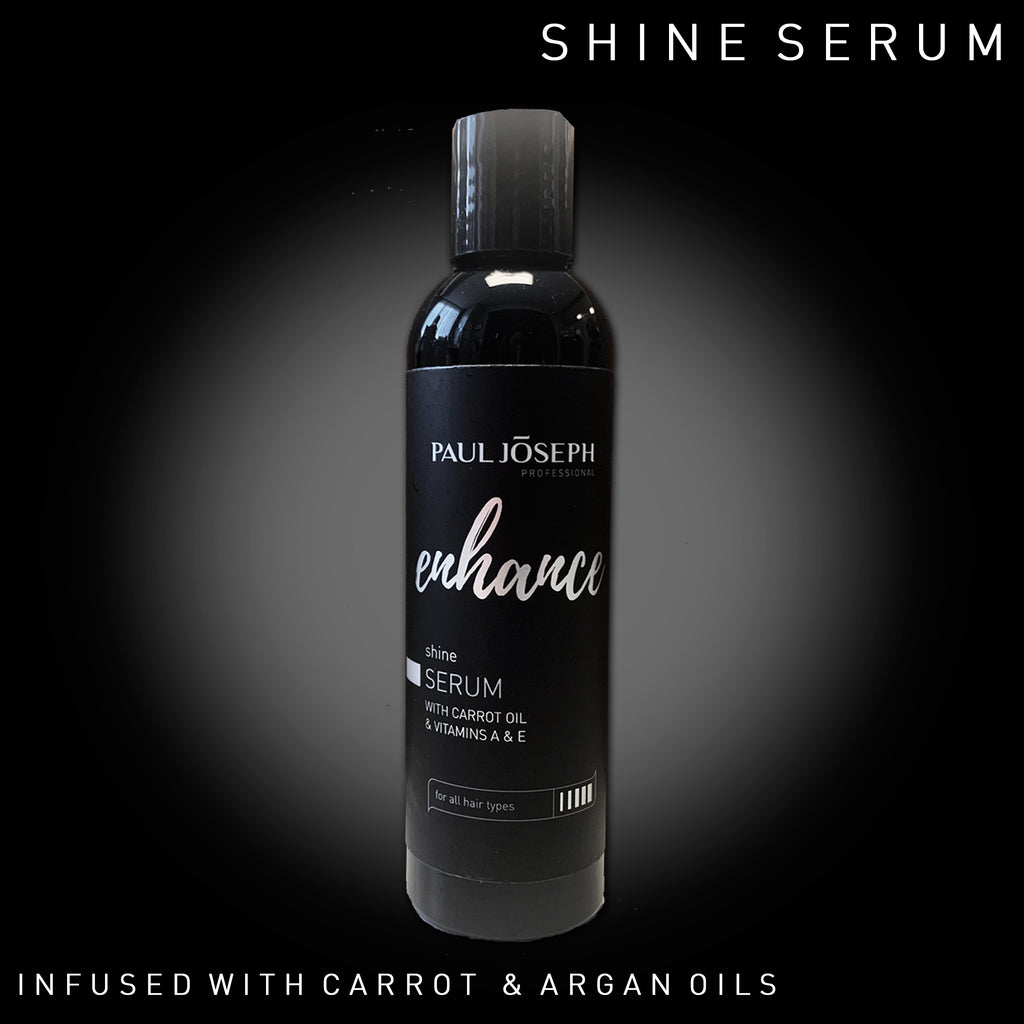 If you've been keeping up with our hints, you'll probably already know that our newest addition to the Paul Joseph Professional line, ENHANCE SHINE SERUM, is made up of unique blend of carrot and Argan oils. This lightweight, green tea & avocado scented serum will give you a polished, shiny look – but there are many more healthy-hair benefits you may not be aware of. But worry not! We've got the rundown for you. 😊
Carrot oil, derived from carrot seeds, is rich in beta-carotenes and vitamins A & E – all of which are essential for hair health. Evidence has shown that these nutrients can help your hair grow faster and stronger, will help you to avoid split ends, and will improve your overall hair texture and elasticity. Furthermore, the vitamins have been found to have a protective effect, guarding your strands from damage caused by UVA/UVB rays, environmental stresses (ie. smoke, pollution, etc.), and heat/chemical treatments.
Argan oil, which you're probably already familiar with, is found in the kernels of the Argan tree (native to Morocco.) It has been a popular additive (or even on its own) in many hair products.. and for good reason! Loaded with vitamins, minerals, and essential fatty acids, Argan oil will nourish your hair from scalp to ends and will create a softer, more manageable texture. Same as the carrot oil, the oil helps to repair existing damage caused by every day hair stresses – and helps to prevent further damage (bye-bye split ends!) It's easily absorbed into the strands and follicles which "enhance" its effectiveness, and it will continue to improve your hair from the inside out with every use.
ENHANCE is unique not only in its combination of these two oils, but it also stands out in performance. We wanted to ensure that users with ANY hair type would reap these benefits, therefore the silky serum is designed to give you shine and tame your frizz without weighing your hair down. In fact, because of the previously mentioned nutrients, ENHANCE will actually regulate the natural oils produced by your scalp. This helps to reduce excessive greasiness and prevents dandruff.
So for that fresh-from-the-salon look every day, we recommend including ENHANCE in your daily hair care routine. It can be used prior to and after blow-drying, and you'll start to see improvements right away. Invest in your hair and invest in yourself by purchasing your bottle of ENHANCE today!
Paul DiGrigoli

argan oil, beauty, carrot oil, color protecting, digrigoli salon, digrigoli school of cosmetology, exctracts, hair, hair care, hair product, hair treatment, health, healthy hair, natural, Paul DiGrigoli, paul joseph digrigoli, Paul Joseph Pro, Paul Joseph Professional, real, real ingredients, serum, shiny hair