Keeping Your Hair & Scalp Healthy!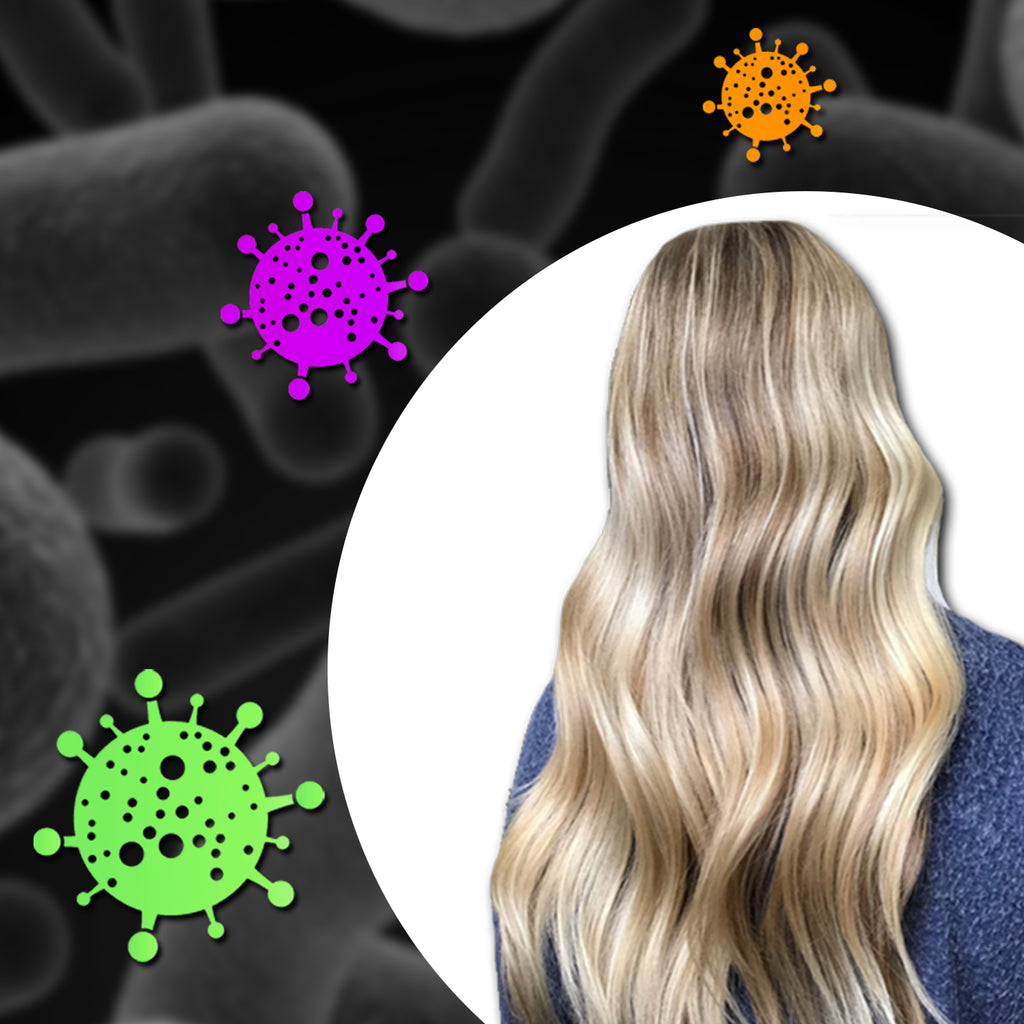 Unless you've been living under a rock (which doesn't sound like such a bad idea actually…) you're aware of the ongoing pandemic occurring globally right now. People are quarantined, wearing masks, and wiping out stores of hand sanitizer and (for some reason?) toilet paper. It's a pretty scary situation that will hopefully resolve itself soon, but we thought this would be a good opportunity to discuss hair and scalp health. All parts of our bodies are exposed to bacteria, viruses, microorganisms, and free radicals – including your hair! An unhealthy scalp can cause a host of problems so keeping it clean and protected should definitely be on your checklist.
As with our hands, it's important to keep our scalps sanitized and not just for aesthetic reasons. Our hair is dense and has a large surface area which can carry germs that will remain there for hours, or even worse, will spread to other parts of our bodies. Furthermore, bacteria and fungi left on the scalp can create a pretty nasty situation – one that could result in hair loss, hair breakage, or even a serious infection.
The problem is that many shampoos and hair products out there are not antibacterial, antiseptic, antimicrobial or antifungal, so generally hair washing isn't going to help. However, at Paul Joseph Professional, we recognized the importance of sanitization and that's why we've included several beneficial extracts in our products.
CITRUS EXTRACT: Antibacterial, Antifungal, Antioxidant & Antiseptic Properties Antiseptic Properties
GARLIC EXTRACT: Antimicrobial, Antifungal, Anti-Inflammatory, Antioxidant & Immune-Boosting Properties
SAGE EXTRACT: Antibiotic, Anti-Allergic, Anti-Inflammatory, Antioxidant & Antiseptic Properties
ECHINACEA EXTRACT: Anti-Inflammatory, Antiviral, Antioxidant & Immune-Boosting Properties
CARROT OIL EXTRACT: Antibacterial & Antifungal Properties
WHITE OAK BARK EXTRACT: Antiseptic, Antibacterial & Anti-Inflammatory Properties
While using these products won't make you immune to whichever illness is circulating near you, they will certainly help to maintain a healthy scalp (which means healthy hair!) and can reduce the amount of germs/bacteria you're carrying around with you. With the world the way it is right now – every little bit helps! Be sure to take the necessary precautions and keep yourself and your family healthy and happy! 😊
Hair & Photo By Kim Bruno @kimmykimster
Paul DiGrigoli

alba bark extract, beauty, blow out spray, carrot oil, digrigoli salon, digrigoli school of cosmetology, echinacea, exctracts, garlic, garlic extract, hair, hair care, hair product, hair treatment, healing extracts, health, healthy hair, herbal extracts, lemon, lemon extract, lemon zest, natural, Paul DiGrigoli, paul joseph digrigoli, Paul Joseph Pro, Paul Joseph Professional, quick blow dry, real, real ingredients, sage, sage extract, sage for hair, shampoo, upgrade, white oak bark, white oak bark extract