Real Hydration: The Benefits of ProVitamin B5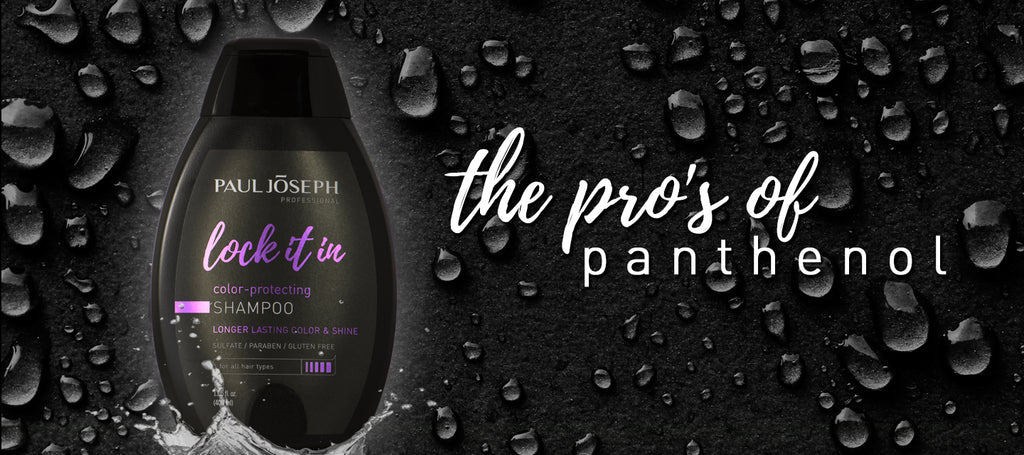 If you've ever purchased or used our LOCK IT IN Color-Protecting Shampoo, you may have noticed on the back it says "Contains ProVitamin B5" – but what is that and why is it beneficial for you? We've got the inside scoop, so read on!
A member of the B-Complex Vitamin family (many of which are used as popular supplements), ProVitamin B5, also referred to as panthenol, is well known in the beauty industry for its moisturizing benefits. There are several features of this additive which create shine, elasticity, and even volume. So let's break down what those features are…
When applied to your hair or scalp, this particular vitamin is a highly effective humectant – which in layman's terms means it promotes moisture retention. The chemical structure actually attracts moisture from the atmosphere and binds it to your hair and scalp. With all of the various chemical and heat treatments in use today, hair can become dehydrated, brittle, and dull. ProVitamin B5 will restore that moisture, resulting in stronger, more flexible hair strands – and some have even said that it expands the hair shaft to create a voluminous look. Everything on this planet grows with water – so a hydrated scalp is going to result in a healthier follicle as well.
In addition to retaining moisture, this ingredient will create a water-soluble film on the hair shaft (water soluble meaning you won't end up with a waxy buildup.) This serves a number of purposes – first and foremost it creates a glossy finish and adds shine, giving you that fresh-from-the-salon radiance we all crave. It also acts as a detangler without adding greasiness or oiliness.
We decided to use ProVitamin B5 in our LOCK IT IN Shampoo for a couple different reasons. For one, color-treated hair needs all the moisture it can get, so this will help to reduce any damage by making the strands stronger and more pliable. Additionally, adding shine to colored hair will enhance the vibrancy – truly giving you your money's worth. Other benefits include reduced breakage and split ends, adding softness and creating a smooth look. So if that's something you're after – check out LOCK IT IN today!
Front Banner:
Hair & Photo by Kim Bruno @kimmykimster 
Paul DiGrigoli

beauty, color protecting, digrigoli salon, digrigoli school of cosmetology, hair, hair care, hair color, hair product, health, healthy hair, natural, panthenol, Paul DiGrigoli, paul joseph digrigoli, Paul Joseph Pro, Paul Joseph Professional, Provitamin B5, real, real ingredients, shampoo, shiny hair