Summer Scorcher - Protecting Your Hair from Damaging Rays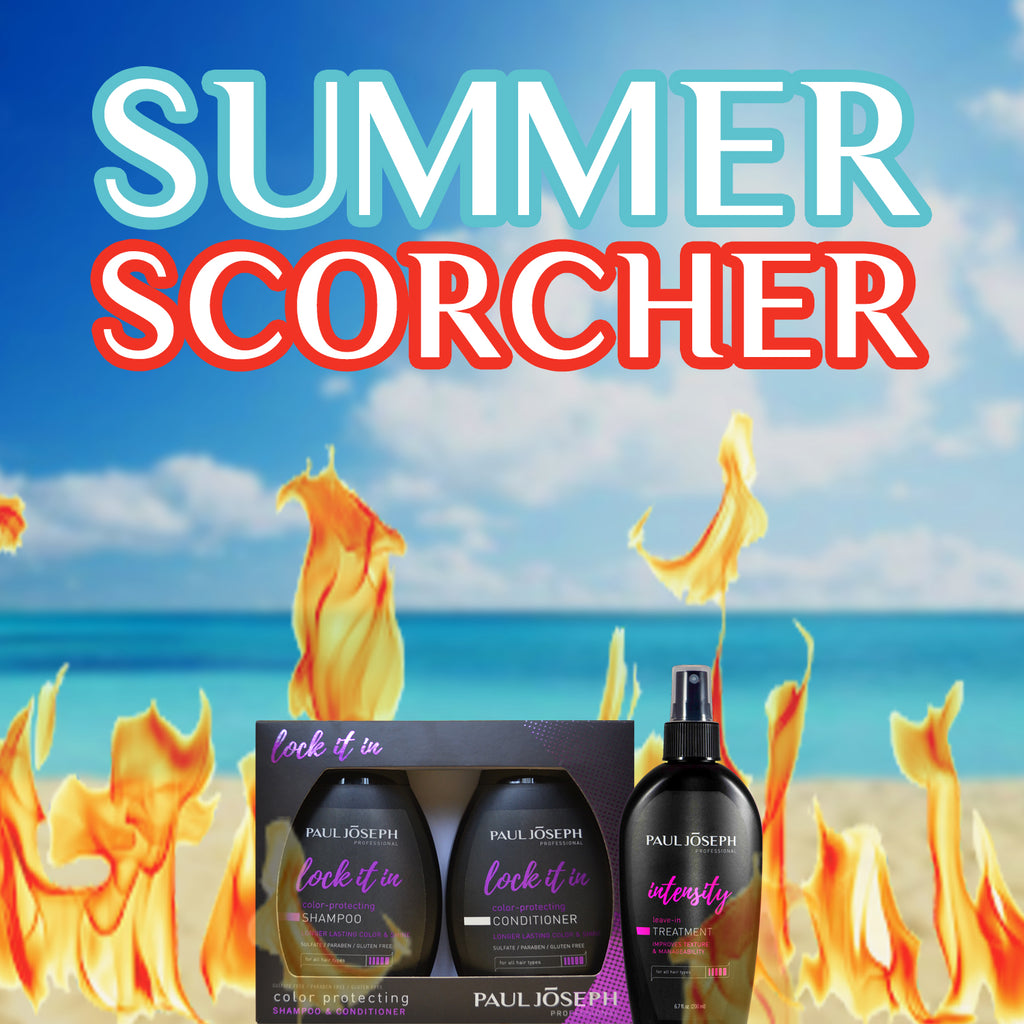 After being cooped up for the past few months, people are rushing to get outdoors to enjoy the fresh air and the summer sun - nothing is more relaxing than laying on a beach with a good book and a fruity cocktail. These days, we pretty much all understand how important it is to lather on the sunscreen before an all day BBQ, but sometimes we forget that our hair needs some protection too! UVA and UVB rays will damage those beachy waves worse than nearly anything else in our environment (short of literal hot lava) so we're going to break it all down for you and save your summer style!
To start, it's important that we understand what UV rays are and how the different types will affect your hair. A UV ray is a band of the electromagnetic spectrum within a specific wavelength (10nm to 400nm) - UVA rays have a wavelength of 400-320nm and UVB rays have a wavelength of 320-290nm. Each of these types of rays affect your hair in different ways - UVA radiation causes the protein in your hair to breakdown, and UVB radiation causes hair discoloration. Both will ultimately change the appearance/structure of your hair strands based on the amount of exposure. 
As with any radiation poisoning, the breakdown of cells begins on the inside - in this case your hair's protein and melanin. That's why it's super important to give your hair its own sunscreen - usually in the form of a UV absorber (such as ::big word alert:: Cinnamidopropyltrimonium Chloride - contained in both LOCK IT IN Color Protecting Shampoo AND Conditioner) or as a protective shield (a natural property of sunflower seed extract - found in INTENSITY Leave-In Treatment). 
Hair that is particularly dry and/or damaged by bleach treatments is especially susceptible to protein breakdown due to its already weakened state. So keep your hair as hydrated as possible no matter how much saltwater you absorb (but it does make for the nicest curls!) with leave in treatments or conditioners and color-treated hair products before you hit the beach. 
Better safe than sorry though.. The best shield between your hair and the sun is a physical barrier such as a tight bun that keeps most of your strands tucked away, a light headscarf you can wrap around, or a cute floppy summer hat. Your hair (and your hair stylist) will be forever grateful! 
Sources: https://www.thehairfuel.com/science-behind-sun-damage-to-hair/ 
Paul DiGrigoli

beauty, color protecting, conditioner, digrigoli salon, digrigoli school of cosmetology, exctracts, hair, hair care, hair color, hair product, hair treatment, healing extracts, health, healthy hair, intensity, natural, Paul DiGrigoli, paul joseph digrigoli, Paul Joseph Pro, Paul Joseph Professional, real, real ingredients, shampoo, sunflower, sunflower seed extract, UVA protection, UVB protection