Sweet, Sour & Shine: Creating Healthy Hair with Sugarcane & Lemon Zest Extracts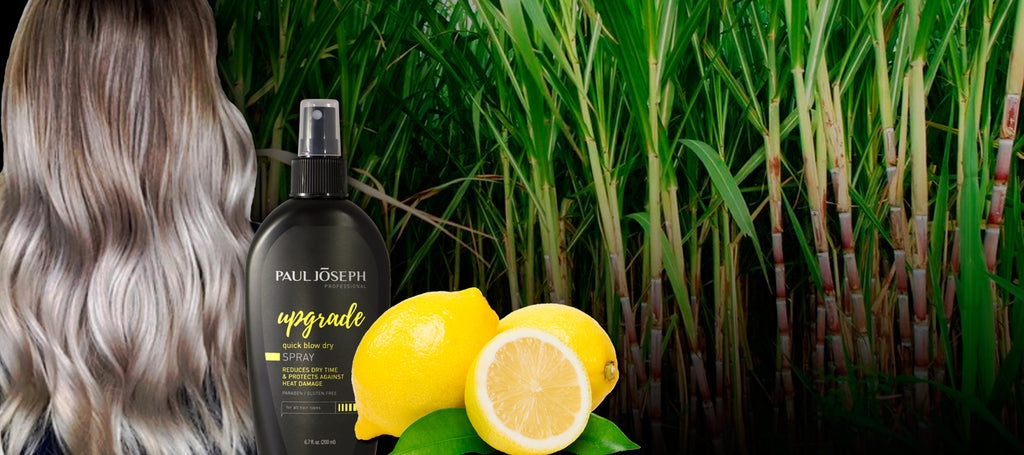 What's better than a crisp, cold lemonade on a summer day? Well you might be surprised to learn that the ingredients of this thirst quencher are good for more than a refreshing beverage! The benefits of sugarcane and lemon extracts for your hair are impressive enough on their own – but together they combine to create shine so bright that even the sun will be envious.
So how does it work? For starters, both are rich in vitamins and minerals which are then absorbed into the scalp and follicles, nourishing from within. Just like we feed the rest of our body with nutrients, the hair relies on a healthy foundation to promote hair growth, repair damage from heat/chemical treatments, and rebuild the strands inside and out. Healthy hair is also much better at preventing further damage, saving you time and money in the long run. It's certainly an "UPGRADE!" (more on that later…)
Now that we know you need to "feed" your hair, it makes sense that (like every living being on this planet) it needs moisture to thrive. This is where sugarcane extract comes in. With a high moisture content, the use of this ingredient will rehydrate and condition your scalp and hair, leading to lustrous results without weighing down your strands like chemical-based conditioners can. In fact, by drawing moisture into each strand, you'll end up with the appearance of fuller, shinier, bouncier hair.
While sugarcane is pretty awesome, lemon extract is equally remarkable. We all know vitamin C is an important part of any diet (and in fighting off these winter colds), but it can also reduce hair loss by strengthening and tightening your follicles. The extract also contains anti-fungal properties which help to curb dandruff – because who is going to notice your pretty hair when you have snowflakes on your shoulders?
It's for all of the above reasons and more that we used these two natural and extraordinary ingredients in our UPGRADE Quick-Blow Dry Spray. The final product is a fresh-scented, lightweight spray designed to tame frizz, create a glossy finish, and condition dry or damaged hair. You can now achieve a salon-quality blow out in the comfort of your own home – and in 30% less time! So not only have you saved money by skipping a visit to your stylist, you now have time to enjoy life – perhaps to whip up a nice glass of lemonade on a sunny day…
Hair by: Kim Bruno @kimmykimster 
Photo by: Kim Bruno @kimmykimster