The Many Benefits of Carrot Oil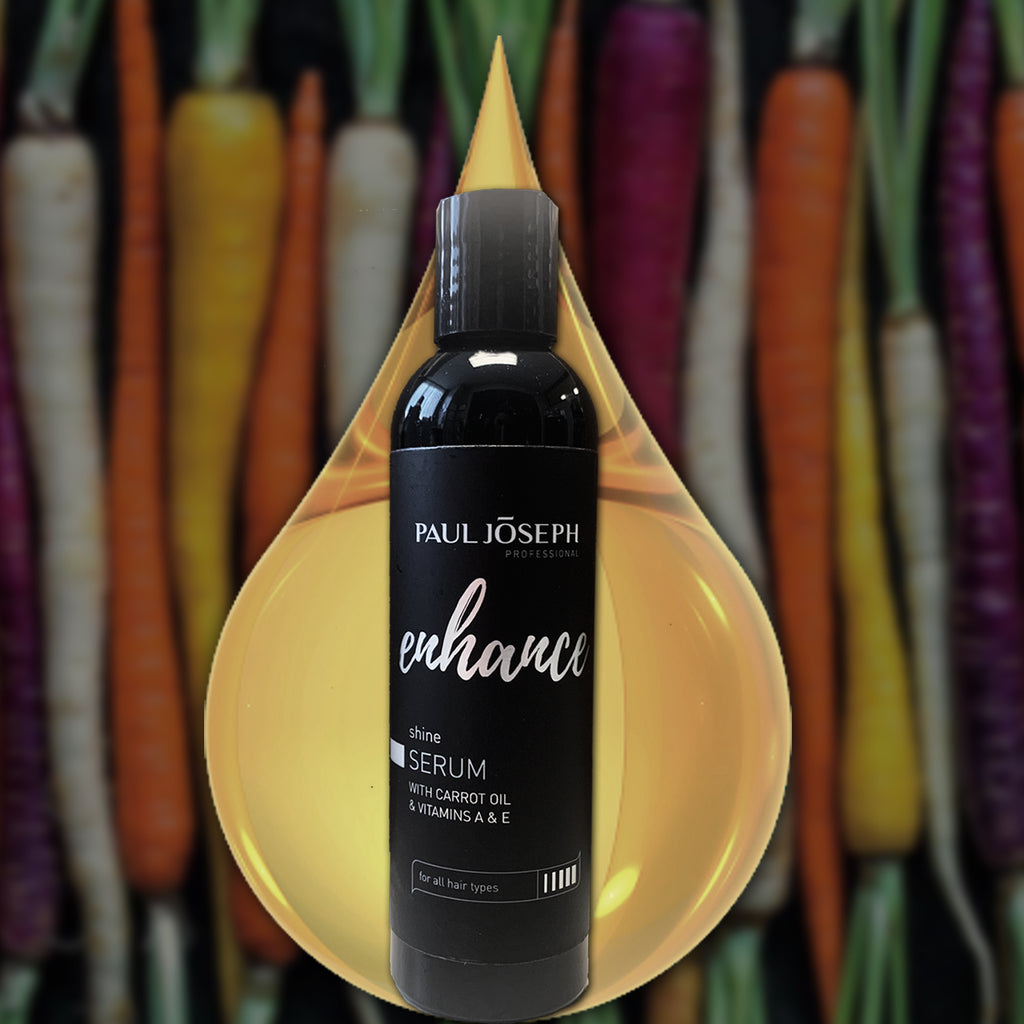 Your hair takes a real beating in the wintertime. Between the dryness, the harsh weather, and smokey fireplaces, your hair is exposed to a lot of not-so-good stuff. Last week, we talked about the benefits of sunflower seed extract in our INTENSITY Leave-In Treatment. But there is another up and coming extract, contained in our ENHANCE Shine Serum, that's equally as beneficial – carrot oil! We've all known the benefits of adding carrots to your diet for a while. But it turns out that they're just as good for your outsides as they are for your insides!
The reason, as with most of the natural extracts we use at Paul Joseph, is that carrots are loaded with nutrients. Namely high levels of vitamins A & E, and beta carotene. When used in a hair product, you can expect better moisture retention, less breakage, and stronger, healthier, shinier hair. The beta carotene, a precursor for vitamin A, prevents split ends and breakage by protecting the strands from exposure to the elements (looking at you, New England winters 😊) and dryness. In addition to that, beta carotene will improve your scalp's health which can lead to increased hair growth in some users.
ENHANCE Shine Serum uses a unique blend of both carrot AND Argan oils for optimal results and the high concentration of quality ingredients sets it apart from the competition. "We have all used shine products and we have all had good results" says Pamela Piatt, stylist and owner of Image Salon in Mobile, AL. "This product is actually different. I actually use just one drop or two (depending on the hair type) to style with and the look is sleek and shiny!" Esther Rios, a stylist at Statements the Salon in Woodbridge, VA, has similar experiences when using ENHANCE on her clients. "Once they feel the results and experience how good it smells, they buy it! We have a hard time keeping it, and other Paul Joseph products on the shelf!"
One of the best things about carrot oil is that it's lightweight and won't leave you with greasy, piece-y hair. And our ENHANCE 4oz bottle is perfect for travel and on the go to tame frizz, static and fly-aways. Grab yours now by clicking ENHANCE anywhere in this article!