Turning Lemons into Great Hair – The Many Benefits of Lemon Extract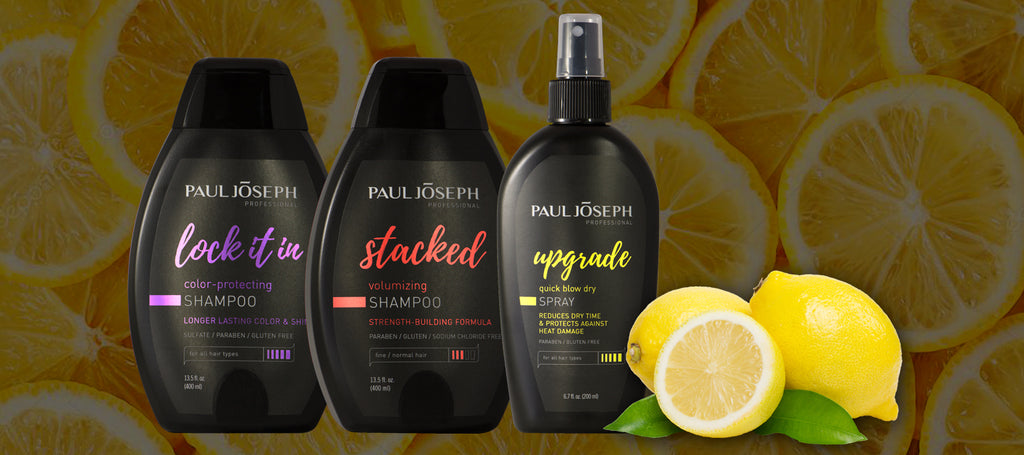 It should be no surprise to you that lemons are an effective cleaning agent – from household cleaners, to dish soap, to homemade cleaning solutions – lemon extract is everywhere. But what you may not have known is that Ancient Egyptians actually used lemon juice (most likely mixed with clay or another diluting ingredient) to cleanse their thick hair of grease, dirt, natural oils, and sand (I mean have you ever tried to get the sand out of your hair after a day at the beach – not an easy task!) What they discovered is that the astringent and purifying properties of the lemon were super effective at breaking through all the muck for clean, fresh hair.
Which is exactly why we included lemon extract in both our LOCK IT IN and STACKED Shampoos. In addition to cleansing the hair and scalp of buildup (and even hard water limescale), it works to balance your pH levels. Your hair's pH typically falls within 4.5 to 5.5, but if your hair products are too strong, they can cause your hair to frizz, develop split ends or become brittle. Lemons have a pH of 2, and when used in shampoo, it can balance the pH of your hair which will reduce frizz, split ends and breakage – it'll even work to create shine! The acidic nature of the fruit will also tighten your hair follicles, preventing hair fall and promoting healthier growth.
Another key element of lemon are its antioxidant qualities. This will prevent damage caused by environmental stresses that are regularly put on your hair (eg. UV rays, smoke, pollution, etc.) These factors can lead to premature ageing and greying, and the lemon extract will slow this process. In addition, the anti-fungal and antibacterial properties of the extract help to fight off scalp conditions that can cause dandruff.
We love lemon extract for these reasons and more, and on top of including it in our top two shampoos, we also added it to our UPGRADE Quick Blow-Dry Spray. Because the extract has those clarifying properties, it can actually regulate the production of natural oils on your scalp. When you're at a healthy level, your hair will be bouncier, lighter, and yes – even dry quicker. The vitamin C in the lemon boosts the production of collagen as well, which repairs your porous strands (caused by heat or chemical damage), creating a shiny surface and less frizz. So the next time life hands you lemons – don't make lemonade. Turn those lemons into great hair!
Front Banner:
Hair & Photo by Kayce Babinski @beautybybabinski
Paul DiGrigoli

beauty, blow dry, blow out spray, citrus, digrigoli salon, digrigoli school of cosmetology, exctracts, hair, hair care, hair color, hair product, hair treatment, health, healthy hair, lemon, lemon extract, lemon zest, natural, Paul DiGrigoli, paul joseph digrigoli, Paul Joseph Pro, Paul Joseph Professional, quick blow dry, real, real ingredients, shampoo, shiny hair, upgrade, volumizing