When it Comes to Your Hair - We've Got Some Sage Advice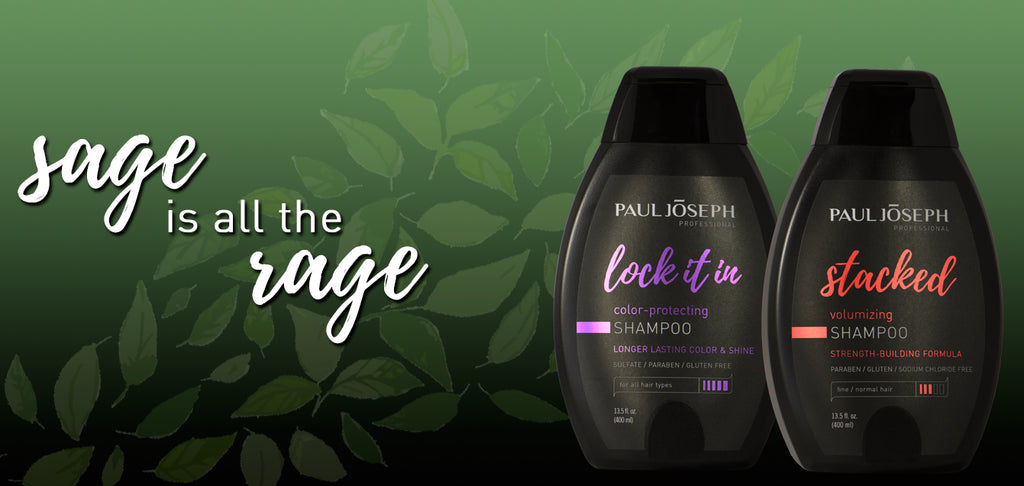 Sage is one of those herbs everyone knows about – either to put in food, as a fragrance, or even to rid your space of bad juju. As with most herbs, sage has been used for centuries by many different cultures for their medicinal properties, and even to combat hair loss. (In fact, sage's scientific name is derived the Latin word "salvere" which translates to "to be saved.") That's why it's no surprise that the extract from this ancient plant is a popular additive in beauty products, and why we've chosen it for two of our shampoos.
Sage, a member of the mint family with close relatives such as oregano, rosemary, lavender, basil and thyme, is native to the Mediterranean and South-Eastern Europe. Its earliest uses date back to ancient Roman times, who were the first to use the herb for cosmetic purposes.
So what's in sage that benefits your hair health? Like many of the other natural extracts used in Paul Joseph Professional products, it's packed with nutrients vital to a healthy scalp and hair, such as Vitamin A and Vitamin C (both which also act as an antioxidant – more on that later), B-Vitamins, Vitamin E, and minerals (namely potassium, calcium, manganese, zinc, iron and copper.) These nutrients work together to nourish the scalp and follicles, resulting in healthier and stronger hair. It is also thought that the compounds within the sage plant can actually darken grays, reducing the need for color touch-ups.
Hair loss can be caused by a number of different factors, such as hormones, stress, or genetics. One of the causes for alopecia is thought to be the result of an immune disorder which attacks hair follicles and damages them, reducing the blood flow to the scalp. With or without this disorder, the sage extract will actually work to promote blood flow to the scalp, therefore creating the building blocks for healthy follicles. The antioxidant properties also reduce the buildup of oils and environmental toxins that can clog the follicles, clarifying the hair for new growth.
While you may have used sage in the past to cleanse your home of bad energy, now you can use it to cleanse your hair of toxins. We used the extract in both our LOCK IT IN and STACKED shampoos for its ability to create stronger, healthier hair, and to reduce color fade. So take our "sage" advice, use it, and pass it along! :)
Front Banner:
Hair & Photo by Kayce Babinski @beautybybabinski
Paul DiGrigoli

beauty, color protecting, digrigoli salon, digrigoli school of cosmetology, exctracts, hair, hair care, hair color, hair product, healing extracts, health, healthy hair, herbal extracts, natural, Paul DiGrigoli, paul joseph digrigoli, Paul Joseph Pro, Paul Joseph Professional, real, real ingredients, sage, sage extract, sage for hair, shampoo, shiny hair, volumizing