Real Clarity - When & Why to Use Clarifying Shampoo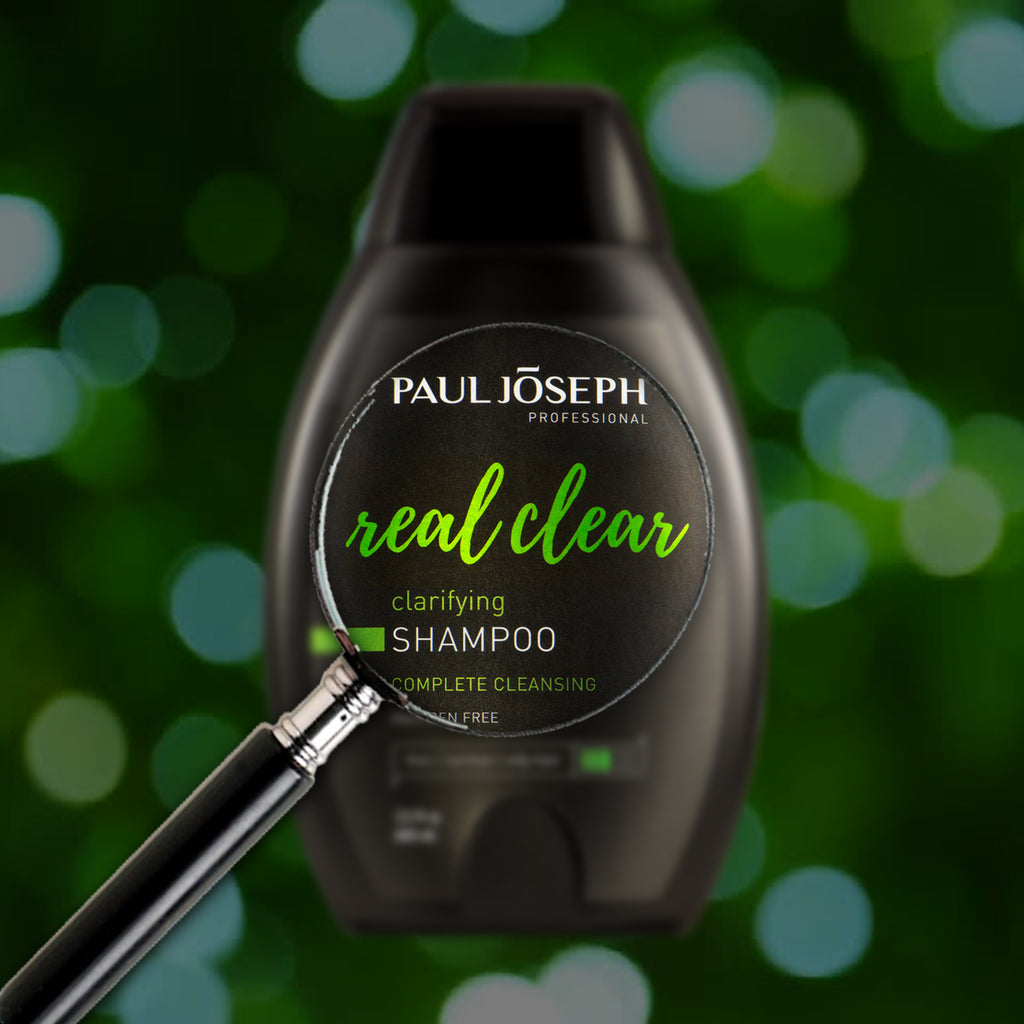 No matter your hair type, it's likely that you use SOME sort of hair product on a regular basis – a leave-in treatment, a pomade, hairspray, gel, etc. Thankfully these products have come a long way and aren't nearly as harmful for your hair as they used to be. There's still one downside to putting anything in your hair – it builds up! Although most products gets absorbed into the hair and scalp, or comes off naturally during the day, a significant amount WILL remain on your head. This can lead to dandruff, an oily/greasy appearance, breakage, or can even hinder the growth of new hair. No thank you!
Most people think the pesky build-up issue is solved with a simple hair wash and you're back to a fresh clean slate. Unfortunately, this is not always the case. With the rise of the "anti-sulfates" movement, the general public usually opts to use a gentler shampoo as to not cause hair damage or color fade. And while it's true that sulfates add intensity to the cleansing process, they are not always harmful; and in some cases, they're necessary!
Think of your hair as a car for a moment. Especially in these New England winters, the exterior will take a real beating from salt, sand, and muddy slush. Then the springtime rain comes and washes that all away – giving the appearance of a clean (well, cleaner) car. But rain doesn't have a whole lot of pressure, and that caked on salt and mud doesn't budge. So you take your car to a car wash where specialized tools use pressure, soap and water to deep clean and you're left with a sparkly looking-like-new result. Great! But if you looped back around and repeated the process multiple times, the paint is eventually going to wear down. That's how sulfates work. When used in moderation and when truly needed, they can be extremely helpful.
So when and how should you be using a clarifying shampoo (such as REAL CLEAR)? There are a couple types of situations that call for deep cleaning. First, and as previously mentioned, build-up. Based on the texture of your hair, using a clarifying shampoo from once a week to once a month is recommended to break down the product build-up, unclog your hair follicles, and remove excess oils. Without all that weighing you down, you'll notice the appearance of shinier, more voluminous hair. And underneath, a healthier scalp less prone to drying and dandruff.
The second use for clarifying shampoos is to create a "blank canvas" for color application. Many products these days protect the hair by creating a film around each individual strand. This film prevents outside toxins and/or heat treatments from penetrating and causing damage or color-fade – all good things! However this film will ALSO prevent the color from effectively bonding to the hair and it won't last as long as it should A shampoo such as REAL CLEAR will remove that barrier when used prior to coloring, allowing for a stronger bond and longer lasting color.
So the takeaway is… clarifying shampoo with sulfates should be a part of everyone's hair care routine – be it once a week, once a month, or maybe only before a color service. We recommend
REAL CLEAR
for all your clarifying needs
; it's unique in that it gives you the deep clean you need WITHOUT the harmful effects of many other sulfate shampoos (click here to read more about REAL CLEAR's LustreX technology)
. Plus our 13.5 oz bottle for only $17 will last FOREVER with proper use!
Click on REAL CLEAR anywhere in this article and purchase yours now! 😊
Paul DiGrigoli

beauty, clarifying, clarifying shampoo, digrigoli salon, digrigoli school of cosmetology, exctracts, hair, hair care, hair product, hair treatment, health, healthy hair, natural, Paul DiGrigoli, paul joseph digrigoli, Paul Joseph Pro, Paul Joseph Professional, real, real ingredients, shampoo, shiny hair