Crystal Clear: The Importance of Clarifying Shampoo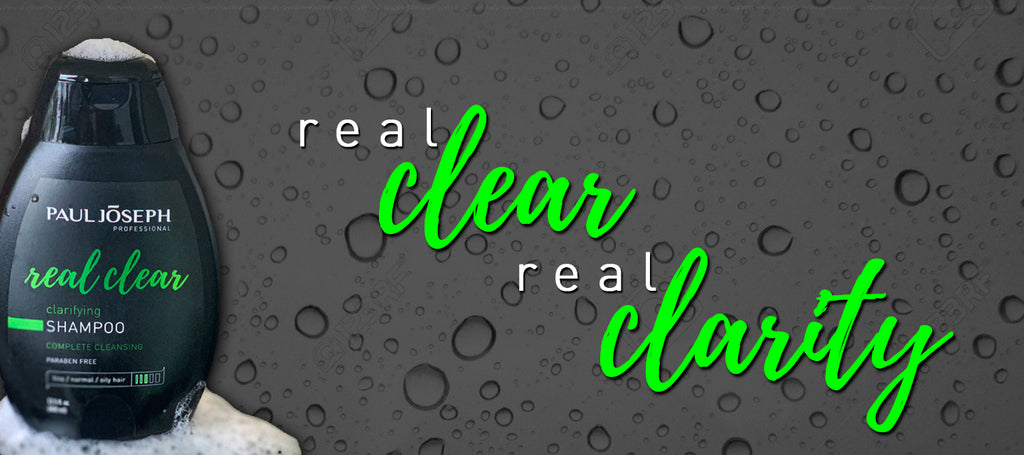 Unless you're a hair stylist (or just interested in all things hair related), you probably don't know what a clarifying shampoo is or what it's for. Well now is the time to get educated – because most people are missing out on an important part of their hair routine.
The main purpose of a clarifying shampoo should be "real clear" (pun intended.. check out our own REAL CLEAR Clarifying Shampoo 😊). It's used to clarify (clear up) your scalp and hair of product buildup and natural oils. Why is this so important? Clogged hair follicles prevent healthy hair growth, and environmental stresses on the hair strands can lead to breakage or worse – hair loss. All of the fancy oils, creams, gels, serums, and styling sprays you may use will stay put if not washed away, and if left untreated will create excess greasiness and dandruff – neither of which are very pretty!
The reason clarifying shampoos are so good at removing buildup is because they're generally stronger than your daily use shampoo. That's because they contain surfactants (typically found in detergents for deep cleaning) that work by attracting water and dirt/oil molecules, allowing the buildup to lift off of the hair strand and rinse out with the water. Without this ingredient, the dirt and oils will stay in place, only removing some of the surface buildup. Think of it as that deep cleaning you do on your carpeting before you have company over – the rest of the time you just vacuum, getting the surface debris up. But that deep steam clean penetrates down to the bottom, lifting up all of the tracked-in dirt, sand, and stains.
So how do you know when you need to clarify? It's not something you'll need to do every day – and can even cause more harm than good if done too frequently. First, start with your hair type. If you have thin, flat hair, a weekly dose of clarifying shampoo can boost your roots and prevent oiliness. It'll also add a nice, natural shine. If you have color-treated hair, only clarify before a color treatment. This will give you a nice "blank slate" for the color to penetrate, giving you longer-lasting vibrancy. If you have regular to thick hair, a clarifying shampoo is good as needed or once a month, just to clear away the accumulation of product used over time.
REAL CLEAR Clarifying Shampoo does all of the above – but we went an extra step and added in what's called "LustreX" or Polyquat-7. This is a positively charged polymer that binds to the negatively charged parts of the hair proteins, smoothing out the strands and helping the hair to lay flat. In addition, it counteracts the drying effect of the surfactant by moisturizing, removing tangles, and eliminating static-electricity. Overall you're left with squeaky clean, shiny, manageable, voluminous hair. Oh, and since this isn't a daily shampoo, our 13.5oz bottle will last you for FOREVER! 😊
Paul DiGrigoli

beauty, clarify, clarifying shampoo, digrigoli salon, digrigoli school of cosmetology, hair, hair care, hair color, hair product, health, healthy hair, natural, Paul DiGrigoli, paul joseph digrigoli, Paul Joseph Pro, Paul Joseph Professional, real, real ingredients, shampoo, shiny hair, volumizing