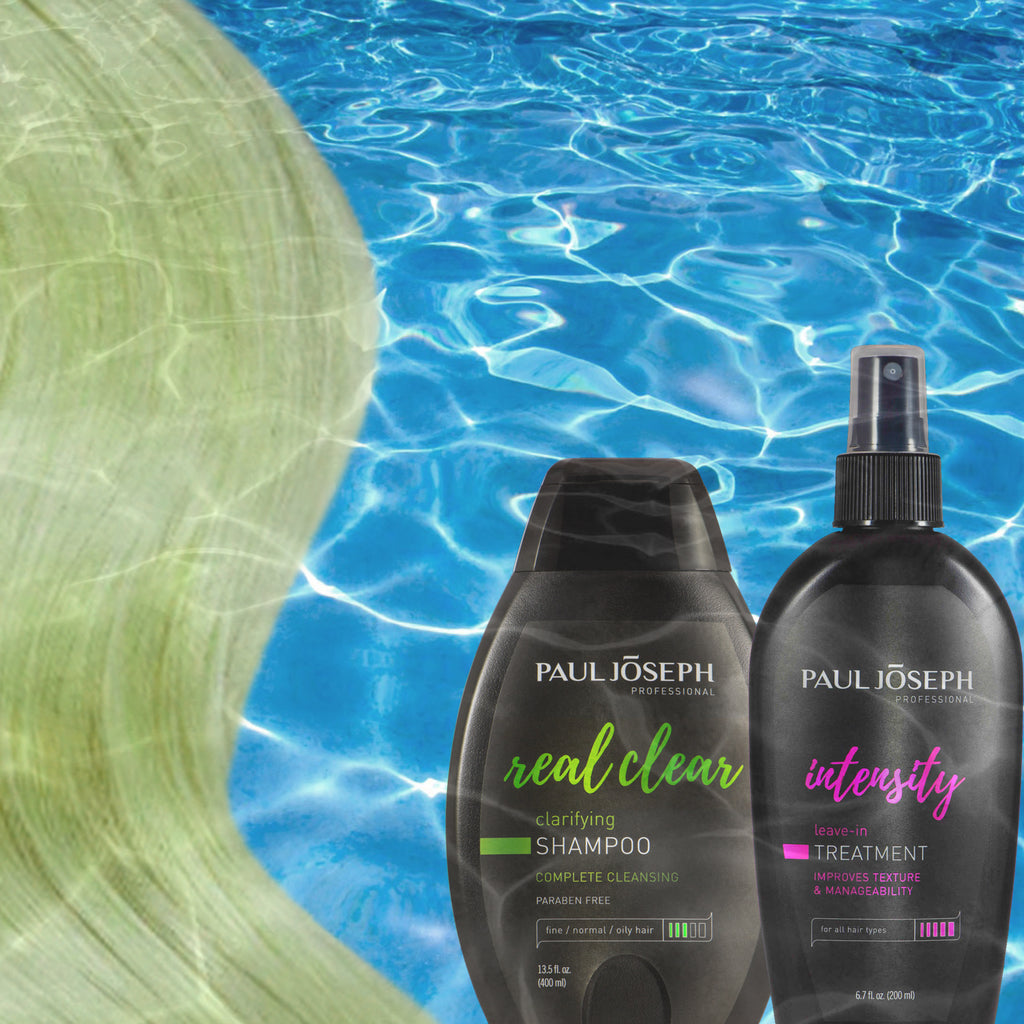 With the outdoor and indoor activities severely lacking this summer due to the ongoing pandemic, we're all limited to a just few ways to beat the boredom. One of the best options for staying cool and having some socially-distant fun is the pool! If you're lucky enough to have a pool or access to one, there's no doubt you'll be spending much of summer 2020 enjoying its benefits.
But there are some cons to frequent pool swimming – the most obvious one is the chemicals. Chlorine and other pool-cleaning chemicals (such as bleach) dry out your skin and irritate your eyes. But it's not actually the chlorine in the pool that turns your blonde hair green – oxidized metals present in the water bind to the protein in your hair and deposits color (the green hue comes from copper, commonly found in pool water).  
Even if you're not a blonde (natural or otherwise), the bleach in the pool water isn't the greatest for the health of your hair. Just as it dries out your skin, it does the same to your strands, and the lack of moisture can severely compromise the strength and appearance of your hair. So here are a couple of tips to live by (and some product recommendations as well) to keep your pool-side hair looking its best.
1. Replenish & Re-Moisturize! As we discussed above, you can feel the difference in your hair's texture after one swim in the pool. It's important to prepare for this sudden loss of moisture by using nourishing and protective treatments BEFORE you hit the water. Products that use extracts high in vitamins (mainly A & E) will help to fortify the individual cuticles, putting up more of a defense against harmful pollutants (in this case, copper and bleach.)
We recommend using INTENSITY Leave-In Treatment prior to and following each swimming session. Loaded with vitamins and minerals due to the sunflower seed extract, your hair will be repaired and protected prior to the pool, and replenished and moisturized after!
2.
Remove & Repair!
Attention all blondes – this tip is for you! Using a clarifying shampoo after you swim will greatly reduced the chance of green hues. The
ultra-cleansing properties of clarifying shampoos remove the harmful metals (which cause the discoloration) and chemicals from your hair thoroughly.
But be sure to use sparingly, as many clarifying shampoos can dry out already brittle color-treated/bleached hair.
We recommend
REAL CLEAR Clarifying Shampoo
for use no more than once a week or after swimming in a chlorinated pool to prevent discoloration. The patented LUSTRE-X formula will strip the hair of pollutants without harming the cuticle or scalp.
Hopefully now you can swim worry-free this summer, keeping your sun-kissed blonde sparkling and bright!
Continue reading