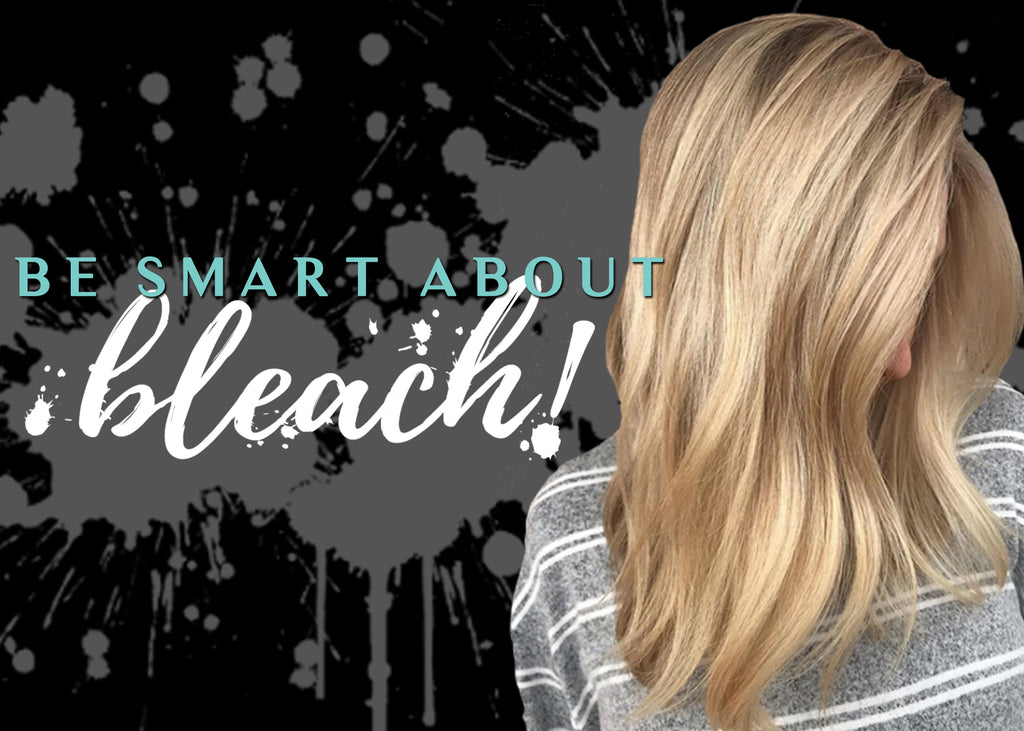 Golden highlights, soft balayage, icy platinum… it's finally summer, which means it's time for blonde, blonde and more blonde! (Or, if you're a hair stylist – bleach, bleach and more bleach!) Despite it's bad reputation for causing damage, we at Paul Joseph Professional know that hair lightening is a major part of the beauty industry (and it's not going anywhere!), so we have some tips and products to help you protect your bleached hair this summer and all year long!
PREPARATION! Prior to any color or chemical treatment on your hair, it's important to start with a clean, pure canvas. Product buildup and environmental pollutants (ie. smoke, dirt, etc.) can prevent the treatment/bleach/color from fully penetrating the cuticle, leaving you with less than ideal results that will fade quickly. Therefore, we recommend using a moisturizing clarifying shampoo to strip away impurities left on your hair and scalp without over-drying. If you use a shampoo that doesn't replenish your hair's moisture, the bleach will dry you out more, causing breakage, dullness or even hair loss.

We recommend using REAL CLEAR Clarifying Shampoo prior to any bleach services. It's mild yet effective and contains the patented "LUSTRE  X" – a conditioning agent which will keep even the driest hair soft and  manageable.
PROTECTION! Once you achieve the blonde of your dreams, you're going to want to maintain it as long as possible – the less you have to touch it up, the less damage you'll cause. The two biggest culprits of hair damage/discoloration during the summertime are UVA/UVB rays and chlorine. The radiation from the strong summer sun can degrade the protein in your already fragile bleached hair (causing dullness, frizz, and breakage), and the chlorine from your refreshing pool can turn that blonde an unflattering shade of green. For these reasons, we recommend using a leave-in conditioning treatment that can shield against the absorption of UV rays and chlorine. The conditioning element will also keep your hair moisturized – a very important factor for color-treated hair.

For UVA/UVB and chlorine protection, we recommend INTENSITY Leave-In Treatment. This water-based formula (containing sunflower seed extract) is ultra-hydrating, nourishing, and absorbs the UVA/UVB rays and chlorine so your hair doesn't!
PREVENTION! Besides the damage, brassiness is the other major issue bottle-blondes run into. The environment plays a role in this as well – your hair absorbs common pollutants which can create a yellowish/brassy tone. Usually by the time you notice it, you need to re-bleach or re-tone your hair to get rid of it – but there's a way to prevent it from happening all together! That clarifying shampoo you used prior to your hair treatment is the star of the show yet again – it's super-cleansing nature will remove impurities that may discolor your hair before the brassiness is apparent. By using a clarifying shampoo once a week, you can keep those golden or icy tones radiant for longer – reducing your need for salon visits and touch-ups.

To beat the brass, we once again recommend REAL CLEAR Clarifying Shampoo. When used once a week along with your regular hair care routine, you'll notice less discoloration and a brighter, healthier looking blonde!


Now you have all the tools to be smart about bleach this summer – and beyond! So go out and show off that sparkling blonde!  


Banner Photo & Hair by: Kim Bruno @kimmykimster 
Paul DiGrigoli

beauty, bleach, bleach blonde, chlorine, clarify, clarifying shampoo, color protecting, digrigoli salon, digrigoli school of cosmetology, exctracts, hair, hair care, hair color, hair product, hair treatment, healing extracts, health, healthy hair, intensity, leave in treatment, natural, Paul DiGrigoli, paul joseph digrigoli, Paul Joseph Pro, Paul Joseph Professional, protein, real, real clear, real ingredients, shampoo, sunflower, sunflower seed extract