Intensive Repair for Dry & Staticky Hair!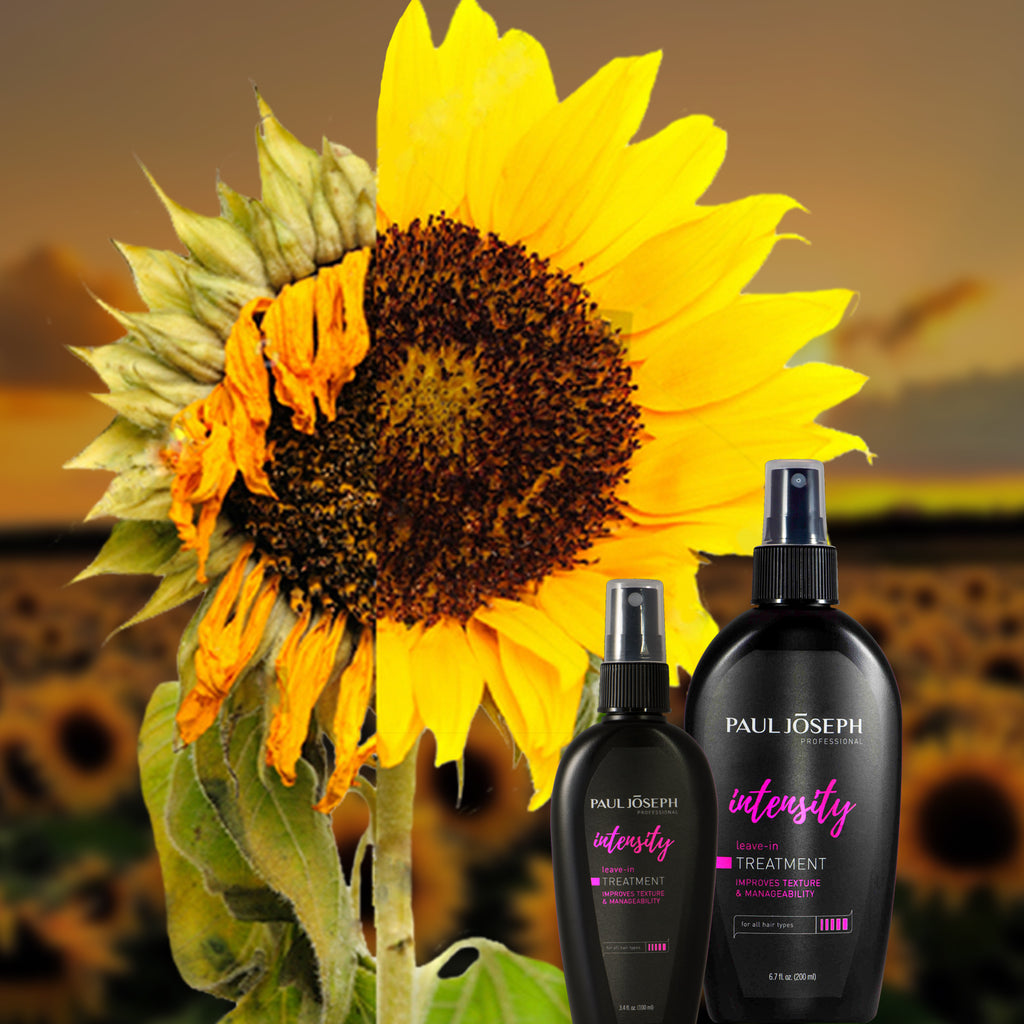 It's wintertime (still ☹) which means – at least for those of us in colder climates – it's the season for dry, brittle, fly-away hair. We spend most of our time cooped up indoors with a dry heat blasting that keeps us nice and warm but does our hair no favors. It's a constant struggle to replace all that lost moisture and it's difficult to maintain throughout the day (ie. putting on your coat = static city.) Luckily, our chemists have done their research, and our Leave-in Treatment, INTENSITY, is able to replenish your hair's moisture AND maintain it!
So what is it about INTENSITY that makes it so effective? Sunflowers! The extract from the seeds of this summery flower are PACKED with vitamins and other nutrients that help to repair, rebuild, and refresh dull, brittle strands.
But for the purposes of this discussion – how can INTENSITY combat the static? Well, one of the major benefits of sunflower seed extract is that it's lightweight and highly absorbable. This is important for a couple different reasons: it's not going to sit on top of your hair temporarily – it's going to last. It's also going to get absorbed into your scalp, feeding the hair follicles with nutrients and moisturizing your skin. This will help to prevent dandruff and also the over-production of your body's natural oils, which can leave you with a flat, greasy appearance and clogged pores.
With hair that is sufficiently moisturized, the static charge causing your fly-aways is eliminated (that's why there's more static in the winter than in the more humid months – water is an excellent conductor and absorbs energy). It's the Omega-9 acid in the extract (which makes up between 16-28% of a sunflower seed) that's mostly responsible for the re-hydration your hair so desperately needs this time of year. It even forms a protective barrier around the hair strands to seal in the moisture which prevents the loss of hydration caused by heat treatments and environmental elements.
We recommend spritzing INTENSITY on freshly washed, damp hair about 5-10 times depending on your hair's length and density. From there you can air dry (which will keep your hair even MORE hydrated) or blow dry and style as usual. As an extra line of defense, you can carry our 3.4oz size in your purse, spray a small amount into the palm of your hand, then run it through your hair to catch any loose fly-aways throughout the day. The beauty of INTENSITY is that a little goes a long way and it's formulated to last, so grab a bottle today and enjoy a little piece of summertime – 5 months early!
Paul DiGrigoli

beauty, digrigoli salon, digrigoli school of cosmetology, exctracts, hair, hair care, hair product, hair treatment, healing extracts, health, healthy hair, intensity, natural, Paul DiGrigoli, paul joseph digrigoli, Paul Joseph Pro, Paul Joseph Professional, real, real ingredients, shiny hair, sunflower, sunflower seed extract