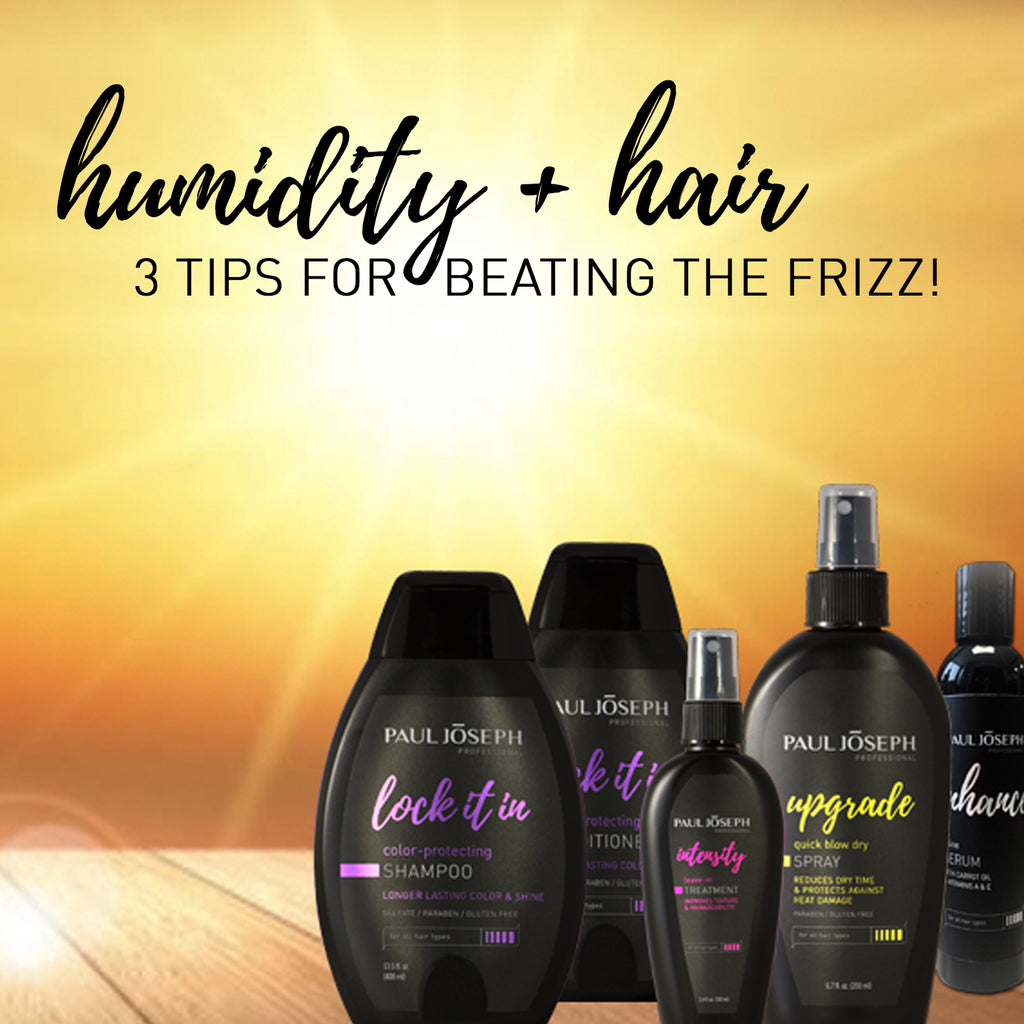 Humidity can wreak havoc on your smooth, fresh locks mere seconds after you finish styling. Up here in the Northeast, it's something we're very familiar with - every summer we deal with suffocating levels of moisture in the air. That's why we at Paul Joseph Professional focused so much on frizz prevention, and we've got some insider tips on how to keep that mane tamed in even the most humid climates! 
First and foremost, it's important to understand WHY our hair frizzes in humidity. Of course we all know the chemical makeup of water is 2 parts hydrogen and 1 part oxygen - therefore on a particularly muggy day, there are high levels of hydrogen in the air. The chemical makeup of our hair is sensitive to these airborne hydrogen molecules and they quickly bond to the protein and water molecules already present in our hair. And the drier the hair, the more likely it is to absorb outside moisture (which is why those with brittle, chemically damaged, dry hair are more susceptible to frizz). When these bonds form they cause the hair strand to swell up - disrupting the smooth outer layer of the cuticle. This gives you a coarse, "fried" appearance, commonly known as frizz. 
Now that we got the science out of the way, here are some tips and tricks for shiny, sleek hair all year round!
1. MOISTURIZE! I know it seems counterproductive to ADD moisture when fighting the humidity - but as we already know, hydrogen bonds are more likely to form in dry hair. So that means if you get chemical treatments or use a lot of heat for styling, you need to make sure you're replacing that moisture lost in the process.
For the ultimate re-hydrator for colored or chemically treated hair, we recommend LOCK IT IN Color-Protecting Shampoo & Conditioner.
2. PROTECT! Create a shield of defense against the elements with conditioning treatments. Products with high levels of nourishing extracts can create a protective shield around the hair strand, helping to prevent the disruptive hydrogen bonds which cause frizz.
For the best line of defense, we recommend INTENSITY Leave-In Treatment & UPGRADE Quick Blow-Dry Spray. Both which contain multiple extracts proven to help prevent frizz such as sunflower seed, lemon zest, and sugar cane.
3. REPLENISH! Depending on how humid the air is,  how long you are exposed to it, or the overall condition of your hair, moisturizing and protecting alone may not be enough. If this is the case, make sure to have a smoothing serum or oil on-hand to re-stabilize the moisture in your hair. A small amount run through your fly-aways and ends should be enough to keep you frizz free until your next hair wash. It's important to not overdue this step though or you'll end up with greasy, heavy hair.
To smooth and shine your locks, we recommend ENHANCE Shine Serum - a unique blend of carrot and Argan oils light enough to use throughout the day but strong enough to condition and moisturize even the most damaged/dry hair. 
Now you're equipped with all the knowledge you need to enjoy a frizz-free summer, no matter where you live! So get out there and enjoy yourself! :) 
Continue reading