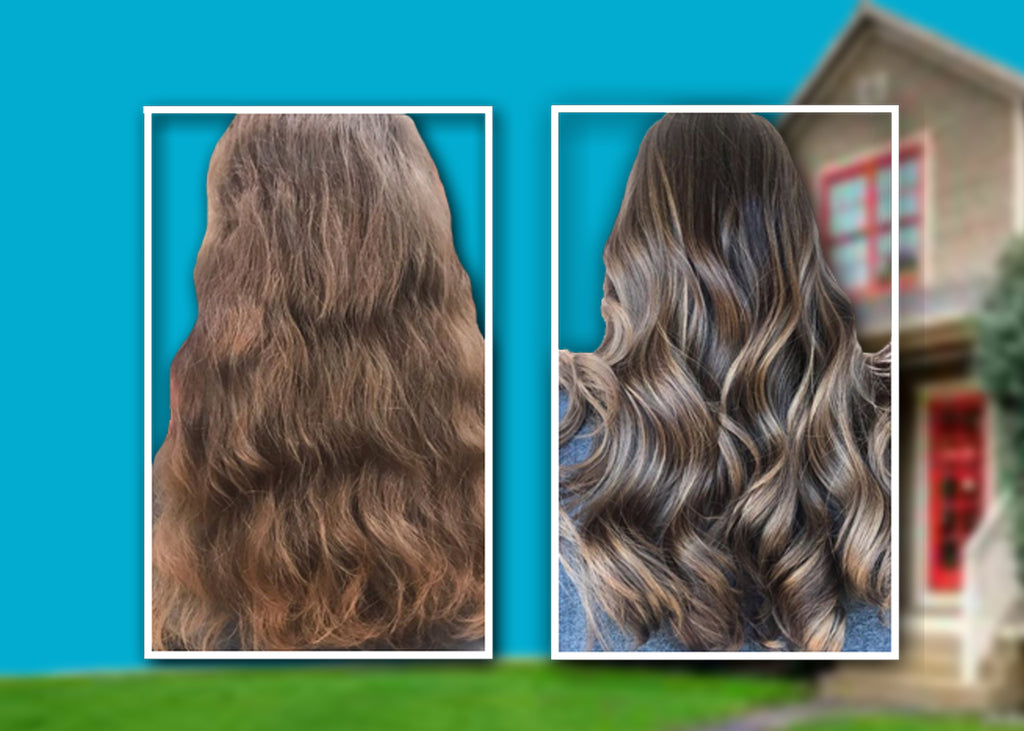 The past 4 months have been a challenge for all of us – whether you were deemed essential and worked tireless hours, you were confined to your home with little outside contact, or worst case – you were sick. Now that everything is slowly opening up and returning to "normal," we're all trying to adjust to this new lifestyle. Salons were one of the many businesses that had to remain closed throughout the majority of the quarantine (depending on the state), and everyone was DIY-ing their haircuts and color. Thankfully, many salons are back open, but only at a limited capacity and no one really knows what will happen these next few months. That's why this week we decided to focus on what you CAN do at home to get that fresh-from-the-salon feeling we're sure you've been craving!
A big part of the salon experience (especially for women) is not just getting a haircut – it's the ambiance, the chit-chat with your stylist, the relaxing smells, and the overall feeling of being pampered. It's very difficult to replicate this on your own (even more if you have zero experience doing hair!) and there will never really be a replacement for the salon experience. HOWEVER, we at Paul Joseph Professional have a few products and tips that can help you gain back even a little bit of that spa-like feeling.
First and foremost, it's all about picking the right shampoo/conditioner for your hair type. We depend on stylists to make this decision for us, but it's really easy to ask yourself a couple questions that will narrow down the selection. 1. Is my hair color-treated? 2. Is my hair fine/thin? 3. Is my hair oily? It's quite simple from here – if you have color-treated hair, you go for a color-protecting, sulfate free shampoo & conditioner (such as LOCK IT IN Color-Protecting Shampoo & Conditioner) to keep your color vibrant and your strands moisturized. If you have thin/fine hair that needs a boost, look for something with "volumizing" in the name, or anything "lightweight" so it doesn't weigh your hair down (like our STACKED Volumizing Shampoo & Conditioner.) And if your hair is ultra-oily, you may need something stronger, like a clarifying shampoo (we have REAL CLEAR Clarifying Shampoo). And make sure to smell them first! Paul Joseph Professional uses scents like basil mandarin and coconut to create that escape-from-the-world spa-like feeling. Don't underestimate how impactful the scent of your hair product can be!
The most challenging part to do at home is the blow-out – so challenging in fact that there are salons dedicated ONLY to blowing out your hair! While the technique can be difficult to get the hang of, it's also about using the right products to get the results you want. There are many blow-out and blow-dry sprays on the market, and most will help to dry your hair faster and create a shiny finish (like UPGRADE Quick Blow-Dry Spray) which is the key to a nice finish. If your hair us especially unruly, we recommend combining the blow-dry spray with a leave-in treatment or conditioner which will re-moisturize dry hair and keep your waves and curls bouncy and flexible (such as INTENSITY Leave-In Treatment.) And finally, finish off your look with a moisturizing and nourishing serum or oil (like ENHANCE Shine Serum) to pull everything together and give you that professional touch. These products, combined with a wet-hair brush, a steady hand, and a good hair dryer, will have people asking you WHERE you go to get your hair done! Now is the time (since we have so much of it lately) to educate yourself on little things like this – because you never know what the future holds!
So stay safe out there, experiment with your hair styles and products, and take the time to pamper yourself. Because you can't help others without helping yourself first! 😊
Hair & Photo by: Kim Bruno @kimmykimster
Continue reading