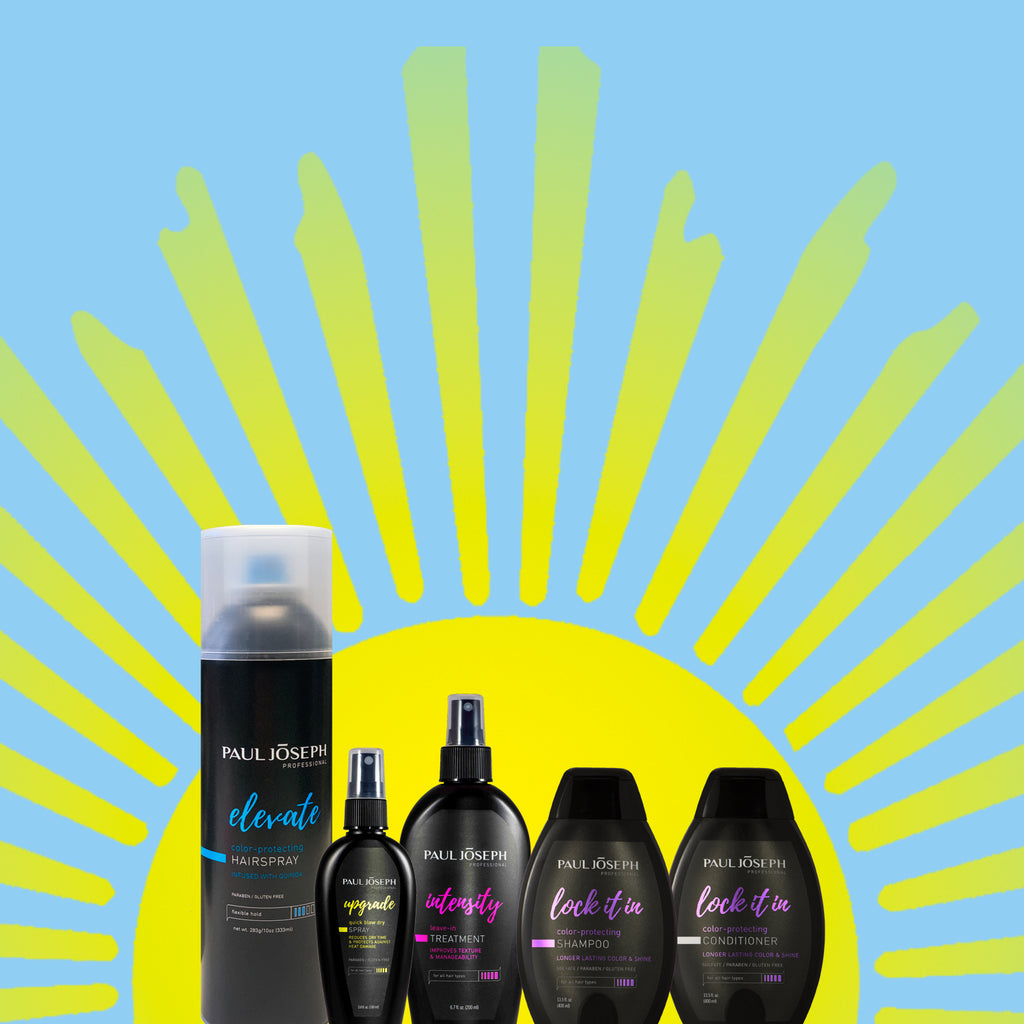 Spring is right around the corner (finally!) and that means many people are freshening up their color or adding sunny highlights for the new season. But it's not cheap to get your hair colored – the popular balayage technique can run you hundreds of dollars depending on where you go. Most don't realize how important it is to secure your investment by using color-protecting hair products. Your color lasts longer when you take care of it, resulting in less salon visits for touch ups, saving a lot of money in the long run! Here at Paul Joseph Professional we understand that, so we use cutting edge and natural ingredients in our specialized products to keep your color sparkling.
The first and most common line of defense is shampoo and conditioner. Our sulfate free LOCK IT IN Color-Protecting system uses a specialized UV absorber (with a long scientific name), to prevent color fade caused by UVA and UVB rays. Dyed hair can also become brittle, weak and dull so it's important to stay hydrated. LOCK IT IN Color-Protecting Shampoo contains extracts such as garlic, sage, lemon and echinacea which help to add and retain moisture, increase shine, and even boost healthy hair growth. The keratin, protein, and vitamins contained in the LOCK IT IN Color-Protecting conditioner aid in repairing hair damaged by the coloring process, giving your hair a healthier, more vibrant appearance.
Next, the blow out process. By using a combination of INTENSITY Leave-In Treatment and UPGRADE Quick Blow-Dry Spray (or either one on their own) you can keep your hair hydrated and protected from color fade even on the sunniest of spring days. The sunflower seed extract in INTENSITY keeps the color sealed in, the strands hydrated and repaired, and protects against damage caused by UVA/UVB rays. UPGRADE adds to that protection with lemon zest extract which has antioxidant properties, shielding your hair against the elements. The sugar cane extract, also in UPGRADE, contributes to retaining moisture and conditioning each strand for a manageable texture.
And lastly, styling. In the past decade, it has been discovered that the "superfood" quinoa was found to help retain color when the extract is used in hair products. That's why we included that, as well as kiwi, mango and aloe extracts in our ELEVATE Color-Protecting Hairspray. The flexible hold is never crunchy and won't dull your beautiful (and expensive) color – in fact it will add shine (something hairsprays typically don't do!) On top of looking nice, your scalp and strands will absorb nutrients rather than harmful build-up, improving the condition of your hair and color with every use.
So after your next expensive trip to the salon, think about the long-term effects of color-treating your hair and how to keep it as fresh as possible for as long as possible. Stylists have a fountain of knowledge when it comes to this, so don't be afraid to ask which product is best for you and your hair type. And don't forget to mention Paul Joseph Professional – our complete color-protecting system will change your life (and your wallet!)
Continue reading