Elevate Your Color & Style with Quinoa, Kiwi, Mango & Aloe Extracts!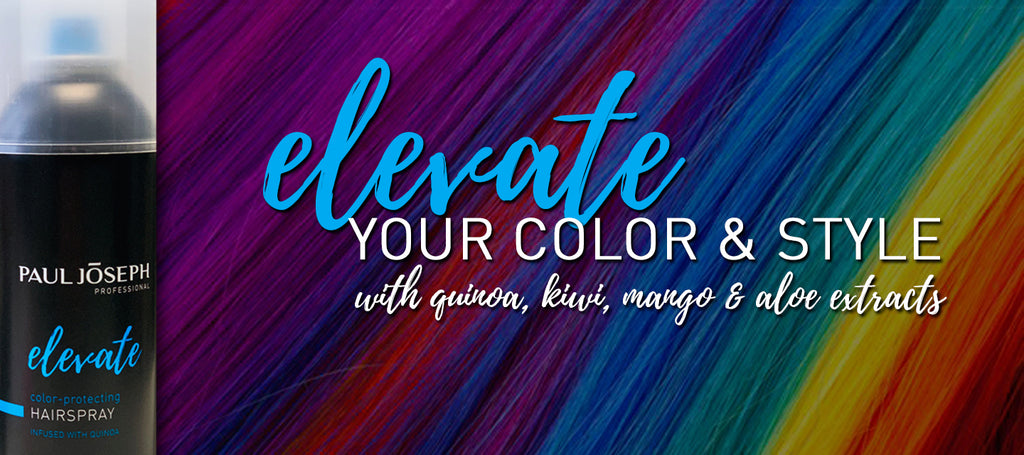 In case you missed it, we here at Paul Joseph Professional recently released our newest product – ELEVATE Color-Protecting Hairspray!  Not only will this flexible hold spray lock in your style, it's also PACKED with nourishing extracts, vitamins, and minerals that'll improve your hair's condition and color with every use!
Let's start with the star of our color-protecting formula – hydrolyzed quinoa. You may already be familiar with the ancient grain because it has found place in mainstream culture as a "superfood." There's a reason everyone is obsessed – quinoa contains amino acids and the most protein out of any other grain, making it a great addition to your diet. But it's also very beneficial for your hair's health for a few different reasons… When we color our hair, the harsh chemicals break down the amino acids (notably cysteine) and protein in your hair, resulting in brittle, dull strands.  Hydrolyzed quinoa (processed extract broken down to be easily absorbed into hair) contains cysteine and works to revive the damaged strands. The result is less fly-aways, less breakage, and an overall smoother texture of your hair. Furthermore, studies show* hydrolyzed quinoa will significantly reduce color-fade with repeated use.
The kiwi, mango, and aloe extracts contained in ELEVATE work together to maintain the hair's health and moisture retention. All 3 are loaded with vitamins and minerals, mainly vitamins A, E, and C, and copper, potassium and zinc – all which work to promote healthy hair growth, control oiliness, and prevent dandruff. What will you notice about using our hairspray with these extracts? Well, that crunchy helmet hair of the past will be no more – you're left with shiny, bouncy style without having to sacrifice the hold you're used to.
There is so much more goodness to unpack in our newest product, but for now we'll let the results speak for themselves. If you haven't tried ELEVATE yet, we encourage you to purchase your first bottle today and let your color and style shine!
*https://www.cosmeticsandtoiletries.com/formulating/category/haircare/231633721.html
Paul DiGrigoli

aloe extract, beauty, color protecting, digrigoli salon, digrigoli school of cosmetology, exctracts, flexible hairspray, hair, hair care, hair color, hair product, hairspray, healing extracts, healthy hair, hydrolyzed quinoa, kiwi extract, mango extract, natural, Paul DiGrigoli, paul joseph digrigoli, Paul Joseph Pro, Paul Joseph Professional, protein, quinoa extract, real, real ingredients, shiny hair