We cLove the Benefits of Garlic Extract!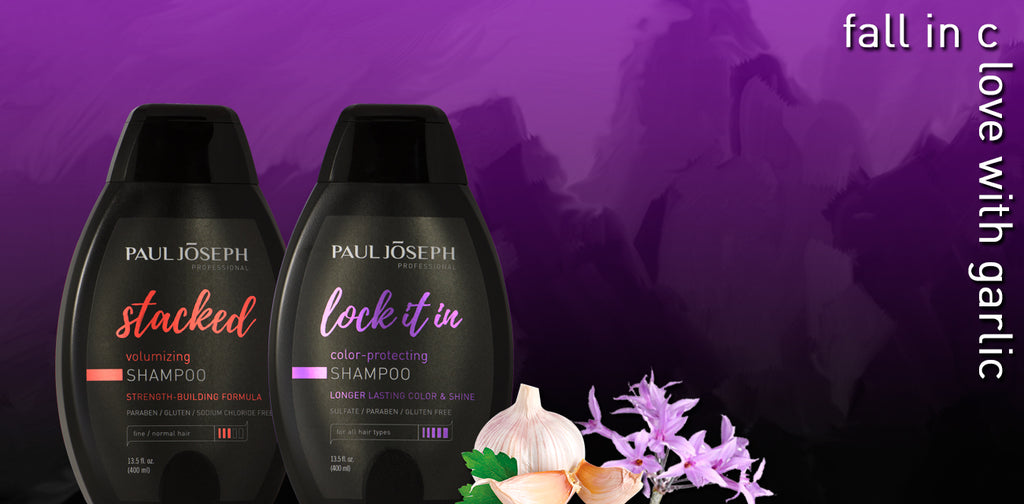 You may be thinking "how and why would I ever put smelly garlic in my hair?" It may be the best topping for bread and a tasty addition to nearly any recipe, but this pungent plant is not usually associated with hair care. However, it has been used for many years as a home remedy for cold symptoms, fighting off infections, and more recently, for longer, thicker, stronger hair. So what is it about garlic that has attracted the attention of the hair industry?
Garlic, found in our LOCK IT IN & STACKED Shampoos, is loaded with hair-improving vitamins, minerals, and elements such as sulfur, selenium, copper, and calcium. Vitamins C, B2, and B1 work to increase circulation in your scalp which promotes healthy hair growth, therefore helping to prevent hair loss. Sulfur is especially important for stronger hair growth since it acts as a building block for keratin, the nutrient which makes your hair and nails grow. Additionally, selenium loads up your hair with Vitamin E which effectively prevents breakage , keeping more of your hair where it should be – on your head!  Copper is another prominent element found in garlic and it can actually prevent the growth of defective, unhealthy hair, improving the overall health of your strands. And we can't forget about calcium, which helps to improve the structural component of your hair.
 As if all that isn't enough, in 2007 scientists performed a double blind study on people suffering from alopecia (a condition that causes hair loss). One group received a betamethasone cream, typically used to treat swelling, itching, and skin irritation, and one group was given a gel containing betamethasone and 5% garlic. The group using the garlic gel saw an average of 1.5cm2 reduction in areas that were balding, as opposed to the other group which only saw a 0.4cm2 reduction. Although there still needs to be more research done on garlic for treating baldness, it's been found that the antimicrobial and antioxidant effects of the plant have proven to be beneficial.
And that's not all the antimicrobial, antioxidant, and anti-inflammatory properties of the extract are good for. They also work to reduce buildup on the scalp, prevent dandruff, and fight off bacteria that can lead to unhealthy hair.
So while you won't smell that familiar garlic-y odor in our shampoos, that's the only thing missing from our LOCK IT IN and STACKED Shampoos – which we think everyone is ok with. You won't walk around smelling like an Italian restaurant, but your hair will show the results of this wondrous extract.
Front Banner:
Hair & Photo by Kayce Babinski @beautybybabinski
Paul DiGrigoli

beauty, digrigoli salon, digrigoli school of cosmetology, exctracts, garlic, garlic extract, hair, hair care, hair color, hair product, hair treatment, health, healthy hair, herbal extracts, natural, Paul DiGrigoli, paul joseph digrigoli, Paul Joseph Pro, Paul Joseph Professional, real, real ingredients, shampoo, shiny hair, volumizing